Have questions? Call us now!
847-468-8900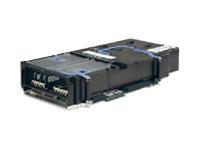 xSeries SMP Expansion Module with Dual Xeon 3.0GHz/400MHz, 512KB processors
IBM SMP Expansion Module - Processor board - 2 / 2 x Intel Xeon 3 GHz - L2 512 KB
This optional SMP Expansion Module with two Xeon 3.0GHz CPUs for Xeon DP Models (021871) is installed on the x445 centerplane above the standard module. It is only compatible with the Intel Xeon DP models of the x445. This option includes two Intel Xeon 3.0GHz processors standard. This is the option needed to upgrade the x445 from 2-way Xeon DP to 4-way Xeon DP, as there is no Intel Xeon DP option kit for the x445.PRODUCT FEATURES:Two Xeon 3.0GHz Processors pre-populated for ease of SMP expansion;64 MB of XceL4 Server Accelerator Cache powers higher performance through decreased latency;Connectors for 16 DIMMs supporting an additional 32GB of system memory for XpandOnDemand memory scalability;Three SMP Expansion ports enabling 4-way SMP with the ability to upgrade to Xeon MP in the future for up to 32-way;IBM XA-32 second-generation chipset powering the next-generation of break-through performance.
| | |
| --- | --- |
| Cache Memory | L2 Advanced Transfer Cache - 512 KB |
| Clock Speed | 3 GHz |
| Compatible Slots | 1 x processor board |
| Features | Streaming SIMD extensions 2, Hyper-Threading Technology |
| Processor Qty | 2 |
| Processor Type | Intel Xeon |
| Product Description | IBM SMP Expansion Module Intel Xeon 3 GHz processor board |
| Product Type | Processor board |