Have questions? Call us now!
847-468-8900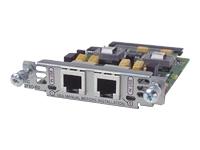 Two-port Voice Interface Card - FXO (for Europe)
Cisco - Voice interface card - plug-in module / 2 analog port(s) - FDDI, ATM, ISDN
The low-density voice/fax network modules for the Cisco 2600 and Cisco 3600 series multiservice access routers enable packet voice technologies including VoIP, VoFR and VoATM (AAL5). Cisco's voice solutions provide the means for integrating both voice and data within a single network allowing users to take advantage of services, such as toll-bypass, without sacrificing voice quality. This combination of voice solutions leverages Cisco's proven track record of being able to effectively handle time-sensitive traffic, such as Systems Network Architecture (SNA) over IP networks. Cisco IOS software also incorporates built-in quality-of-service (QoS) features along with standards-based (FRF.11 and FRF.12) encapsulation and fragmentation providing efficient direct transport of both voice and fax over IP, Frame Relay and ATM networks. These IOS solutions enable time-sensitive voice traffic to be moved across even low-bandwidth WAN connections with the priority and quality voice/fax demands. Transporting voice over IP networks continues to provide transport flexibility since IP can be routed across a multitude of WAN technologies (leased lines, Frame Relay, and ISDN) along with providing direct connectivity to the desktop.The low-density voice/fax network modules slide into Cisco 2600 and 3600 network module slots and contain either one or two voice interface card (VIC) slots. The VICs are daughter cards that slide into the voice/fax network modules and provide the interface to the telephony equipment and the PSTN. Just as the Cisco WAN interface cards can be swapped with other WAN interface cards, the Cisco VICs can be deployed interchangeably with other VICs in the voice/fax network modules. This built-in flexibility and investment protection are key reasons for the worldwide popularity of Cisco's modular branch office router products. VICs currently available include two-port foreign exchange station (FXS), foreign exchange office (FXO), and E&M analog interface cards. Also available is the two-port ISDN Basic Rate Interface (BRI) digital interface card. These cards cover the entire range of analog connectivity options along with user side Q.931 and QSIG digital BRI connections. A Cisco 2600 series or 3620 can house one voice/fax module that contains up to two VICs, a Cisco 3640 can house up to three modules with up to a total of six VICs, and the 3660 holds up to six network modules providing a maximum of 24 analog voice ports. These low-density fax network modules also provide the gateway to Cisco AVVID architectures for calls to and from the PSTN and legacy telephony equipment (including PBXs, analog telephones, fax machines and key systems). Users can deploy networks, which leverage investments in existing legacy telephony equipment while also deploying and integrating IP telephony immediately or in the future. These network modules enable users to operate at any point on the voice, video & data integrated infrastructure spectrum while incrementally adding connections to both legacy telephony and IP telephony on these networks.
| | |
| --- | --- |
| Analog Ports Qty | 2 |
| Data Compression Protocol | G.729, G.711, G.723.1, G.728, G.726 |
| Device Type | Voice interface card |
| Digital Signaling Protocol | H.323 |
| Enclosure Type | Plug-in module |
| Localization | Europe |
| Networking | Voice interface card - FDDI, ATM, ISDN |
| Product Description | Cisco voice interface card |
| System Requirements | Cisco IOS |