Have questions? Call us now!
847-468-8900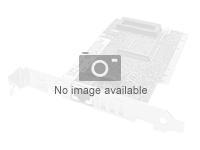 Switch fabric module
Cisco - Expansion module
The Switch Fabric Module sets up and tears down flow connections, monitors switch operation, and performs switch functions. The I/O modules use the SFM processors to perform routing functions, including resolution of unknown addresses, route determinations, protocol processing, and other exception events.The Switch Fabric Module provides 10-Gbps switch control element for switching functionality and flow processing for four I/O modules. You can install a second active module to service four additional I/O modules. Both active modules are on simultaneously in the CSS 11800. The chassis enables you to configure two additional passive modules for redundancy. Therefore, you can configure a total of four Switch Fabric Modules in a chassis, of which only two would be active at any time.
| | |
| --- | --- |
| Data Transfer Rate | 10 Gbps |
| Device Type | Expansion module |
| Form Factor | Plug-in module |
| Product Description | Cisco expansion module |