Have questions? Call us now!
847-468-8900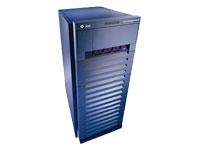 Sun Enterprise 6500 (System Upgrade) - no CPU
Sun Enterprise 6500 (System Upgrade) - Server - tower - 30-way - RAM 0 MB - no HDD - DVD - Monitor : none
Sun Enterprise midrange servers bring the predictability of the data center and flexibility of the Internet to the enterprise to lower costs, increase availability and scale to meet your needs. By delivering high availability, scalability and reliability, Sun provides one of the best solutions for running mission-critical and high-performance applications. The entire Sun Enterprise server family is based on the Solaris Operating Environment, which offers binary compatibility to simplify administration and system management. Sun's midrange servers are also backed by mission critical service and support to assist you with developing, deploying, and managing your complete solution.The Sun Enterprise 6500 system is designed to run mission-critical, enterprise-wide applications, such as data warehouse and enterprise resource planning (ERP). Hot-swappable modular components make it easy to increase performance and I/O capacity in this highly expandable server. Sun's high availability features such as dynamic reconfiguration and alternate Pathing, enable you to add, remove, upgrade, and service system components while the server remains online, thus reducing system downtime. The Solaris Operating Environment helps ensure that the Sun Enterprise 6500 server can effectively scale all the way to its maximum capacity. And Sun's advanced system management software provides effective, easy-to-use tools to manage the powerful resources of the server. Sun Enterprise servers offer excellent performance, reliability, availability, and serviceability (RAS), along with expandability, investment protection, and upgradeability.This is an enclosure upgrade from Enclosure upgrade Enterprise 550X to Enterprise 6500 including rack, card cage, AC box, SCSI Interface assemble, Interface assemble, key switch assembly, 5: 1 Clockboard and DVD10. Customer must return a system rack Enclosure, Card Cage, AC Box and SCSI tray, clockboardy, fan assembly, clockboard and SunCDC-AL sockets, one 10/100 MB/sec Ethernet (Twisted-pair or MII) Interface.