Have questions? Call us now!
847-468-8900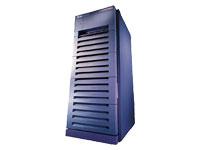 Sun Enterprise 5500 (System Upgrade) - UltraSPARC II 400 MHz
Sun Enterprise 5500 (System Upgrade) - Server - tower - 14-way - 8 x UltraSPARC II 400 MHz - RAM 8 GB - no HDD - CD - Solaris - Monitor : none
With its integrated, rack-mounted storage, the Sun Enterprise 5500 server packs more internal capacity into a space-saving package, critical in crowded data center environments. The server's balanced system design, built around Sun's high-performance Gigaplane technology, delivers tremendous throughput for both compute- and I/O-intensive database, decision support and business applications. The Sun Enterprise 5500 server maximizes system availability with its resilient design, Dynamic Reconfiguration and Alternate Pathing, System Recovery, and proactive hardware failure prediction. System management is simplified by Sun Management Center software's easy-to-use interface and management controls.The Sun Enterprise 5500 features advanced availability, with the ability to reconfigure and repair system components while the server remains on-line, a flexible, highly-available server with more than 1/2 TB of high-performance storage in a single data center cabinet. Common, modular components across the Sun Enterprise server family protect your hardware investment and simplify upgrades.