Have questions? Call us now!
847-468-8900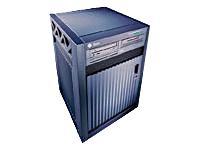 Sun Enterprise 3500 (System Upgrade) - UltraSPARC II 400 MHz
Model:
UG15ES-E3502-BAEX0
Sun Enterprise 3500 (System Upgrade) - Server - tower - 8-way - 2 x UltraSPARC II 400 MHz - no HDD - CD - Solaris - Monitor : none
If you're deploying critical business applications or Internet/intranet services, the Sun Enterprise 3500 server delivers the same exceptional availability and performance features found in its high-end systems. Down time is significantly reduced by the server's resilient architecture, advanced system management tools, and software enhancements such as Dynamic Reconfiguration and Alternate Pathing. The combination of Sun's scalable Solaris operating environment, which runs on all Sun servers, and the system's modular hardware components delivers unmatched investment protection and makes it easy to expand performance and capacity. That's lasting value.Advanced availability features maximize application uptime, with the ability to reconfigure and repair system components while the server remains on-line. Up to eight processors using Sun's high-speed Gigaplane system interconnect deliver leading application performance. Leveraged design of the Sun Enterprise 3500 server to the Sun Enterprise 6500 server family enables on-site upgrades all the way to 30 processors. Sun Management Center software simplifies system management, lowering your total cost of ownership with an easy-to-use interface and proactive hardware failure prediction.This is an upgrade from 50 early SPARCstations to Sun E3500 enclosure, one CPU/Memory Board, two 400-MHz/8-MB UltraSPARC modules, 1-GB memory, one SBus I/O Board with two empty FC-AL sockets, 32x CDROM, two Power/Cooling Modules, Solaris Server License.