Have questions? Call us now!
847-468-8900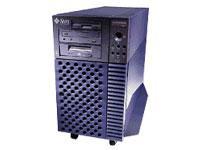 Sun Enterprise 250 - UltraSPARC II 400 MHz
Sun Enterprise 250 - Server - tower - 2-way - 2 x UltraSPARC II 400 MHz - RAM 2 GB - HDD 4 x 36 GB - DVD - PGX32 - Monitor : none
When your servers go down, so does productivity - and profits. So for maximum performance and uptime, one system combines power, capacity, and throughput with the business-critical reliability, availability, and serviceability (RAS) features usually found on high-end systems.And it all comes in an affordable tower package that's easy to rack mount: the Sun Enterprise 250 server. It accommodates up to two UltraSPARC-II processors for extra-high performance. Six hot-plug Ultra SCSI disks and Fast Ethernet combine for unbeatable throughput in its class. What's more, its sophisticated RAS features, such as multiple independent data paths, ECC memory and data-path protection, Automatic System Recovery, built-in service processor with Remote System Control (RSC), and redundant hot-swap power, make the Enterprise 250 server ideal for your most demanding business-critical applications.