Have questions? Call us now!
847-468-8900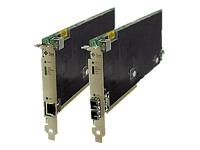 Sun Crypto Accelerator 4000 - cryptographic accelerator
Sun Crypto Accelerator 4000 - Cryptographic accelerator - PCI 64 - Gigabit Ethernet - 1000Base-T
Designed to offer maximum value, the Sun Crypto Accelerator 4000 board lets customers efficiently deliver cost-effective network security on Sun servers running the Solaris Operating System, the the Sun Java Enterprise Server (JES) Web Server software, or Apache Web server software. By combining Gigabit Ethernet functionality with specialized hardware that off-loads and accelerates IPsec (Internet Protocol security) and SSL (Secure Sockets Layer) cryptographic operations, the Sun Crypto Accelerator 4000 board allows companies to significantly improve the performance and availability of secure applications.Ideal for companies using IPsec for virtual private networks (VPNs), the board provides the high-bandwidth connections and optimized performance required to efficiently protect business-to-business and server-to-server communications. In addition, high-traffic secure Web applications using the SSL protocol can gain increased transaction protection and performance from the board.The Sun Crypto Accelerator 4000 board is designed to efficiently off-load IPsec and SSL functions from host processors, helping to dramatically reduce the number of dropped connections that can result from compute-intensive cryptographic calculations. By handling both session establishment and bulk encryption functions, the specialized board frees servers to complete primary tasks, helping companies to maximize resource use and reduce cost of ownership for network security. The PCI-based card also helps with management of unexpected spikes in encrypted traffic and allows customers to leverage Gigabit Ethernet bandwidth to support increased traffic requirements, helping to provide a more consistent, satisfactory user experience. In addition, supported software automatically recognizes the Sun Crypto Accelerator 4000 board for virtually seamless installation, further helping to reduce cost and complexity.