Have questions? Call us now!
847-468-8900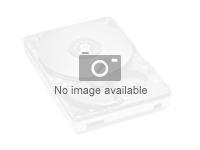 StoreVault Hot Spare - hard drive - 750 GB - SATA-300
StoreVault Hot Spare - Hard drive - 750 GB - hot-swap - SATA-300 - 7200 rpm
Having a hot spare reduces the time to full data protection by automatically starting the rebuild process as soon as a failed drive, or a drive that is about to fail, is detected. Typically, in the event of a disk drive failure, the failed disk is replaced with a new drive and the RAID group is rebuilt. As the name suggests, a hot spare is a spare drive that is in the StoreVault product, and ready to be used, but not currently used for data. The hot spare is immediately brought online and built in the background to replace the failed drive. The administrator is notified of the event and can physically replace the failed drive at a convenient time. This immediate fail-over significantly reduces the likelihood of a second drive failure occurring while the array is being rebuilt.
| | |
| --- | --- |
| Capacity | 750 GB |
| Interface Type | Serial ATA-300 |
| Product Description | StoreVault Hot Spare - hard drive - 750 GB - SATA-300 |
| Spindle Speed | 7200 rpm |
| Type | Hard drive - hot-swap |