Have questions? Call us now!
847-468-8900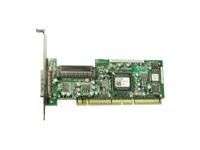 Single Channel Ultra320 SCSI Controller
IBM - Storage controller - 1 Channel - Ultra320 SCSI - 320 MBps - PCI-X
This single-channel Ultra320 SCSI controller option provides a low-cost solution for a wide range of SCSI data-storage applications. It is ideal for attaching high-speed Ultra320 hard disk drives for large-capacity, data-storage solution. Alternatively, it provides support for various attached tape drives (internal or external) and tape libraries (external). This controller option provides driver support for several operating systems and has been tested with popular tape backup applications. It includes internal SCSI connectors to support Ultra320, Ultra160, Ultra2 and Ultra SCSI. This versatility and the high-performance data transfer of Ultra320 SCSI make it an excellent choice to fill general-purpose, data-storage requirements. This option is supported in a wide range of xSeries servers and IntelliStation workstations to provide a high-speed connection to solve typical SCSI data storage requirements.