Have questions? Call us now!
847-468-8900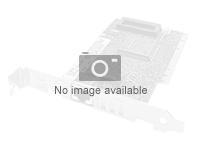 PCI HyperFabric 2 Fibre
HP Hyperfabric 2 - Network adapter - PCI 64 - fiber optic
E-services, enterprise resource planning (ERP), and technical and parallel applications demand more computing power than single systems can sometimes deliver. Hewlett-Packard's innovative and Hyperfabric 2 clustering solution provides the performance scalability and high availability these applications need. HP's Hyperfabric and Hyperfabric 2 products are composed of high-performance network switches, I/O interface cards, and communications software. The Hyperfabric 2 family of network interconnect products provide high-speed, low-latency solutions for clustering HP-UX Enterprise Server and Workstation systems. In addition to high performance, HP's Hyperfabric 2 driver software has been optimized to ensure low CPU utilization. The standard TCP/IP communications stack has been tuned to reduce the delays normally associated with moving data from network media to the application layer and back down to the media.The family of products also offers the flexibility to connect systems in point-to-point or switched topologies, both of which can be implemented in a variety of high availability configurations. To protect continuous system operations, Hyperfabric 2 includes built-in high availability features such as error detection, redundant components, fast failover, and active-active mode, helping to maintain application and data availability at all times. Bundled within Hyperfabric 2 is HP's patented Hyper Messaging Protocol (HMP), a messaging-based protocol that significantly enhances performance of parallel and technical applications by optimizing the processing of various communication tasks. HMP has received numerous praises within the industry! HMP was jointly developed with Oracle, and the resulting Hyperfabric 2 feature set was tuned to enhance the scalability of Oracle's Cache Fusion clustering technology. Hyperfabric 2 products can be used in either copper or fiber environments. Hyperfabric 2 offers a fiber solution, as well as a copper/fiber combo solution. HP's original Hyperfabric customers' investments are protected, as Hyperfabric 2 offers copper compatibility with Hyperfabric infrastructures.
| | |
| --- | --- |
| Cabling Type | Fiber optic |
| Device Type | Network adapter |
| Form Factor | Plug-in card |
| Interface (Bus) Type | PCI 64 / 66 MHz |
| Product Description | HP Hyperfabric 2 - network adapter |
| System Requirements | HP-UX 11.0, HP-UX 11i |