Have questions? Call us now!
847-468-8900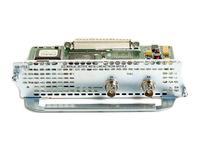 One port T3/E3 network module
Cisco T3/E3 Network Module - Expansion module - ATM, HDLC, Frame Relay, PPP - T-3/E-3
Cisco's Packet-over-T3/E3 network module offers the first software configurable T3/E3 product from Cisco. This flexible network module allows the customer to switch between T3 and E3 applications with a single Cisco IOS command. This feature provides customers with unparalleled investment protection by allowing the service provider or enterprise customer to stock only a single product that can be deployed internationally. The demand for increased bandwidth has led to growth in clear-channel T3/E3 deployment. This T3/E3 network module eliminates the need for an external data service unit, reduces provisioning costs, and provides highly manageable T3/E3 line termination. The module provides an integrated line interface unit DSU that allows T3 or E3 lines to be directly terminated on a Cisco router, eliminating the need for external DSU equipment. This simplifies the T3/E3 line management, reduces provisioning cost, and frees valuable rack space.Offering unprecedented flexibility in provisioning clear-channel T3 or E3 connections, the Cisco T3/E3 network modules provide support for the proprietary subrate and scrambling features of T3 DSU vendors digital link, Larscom, and ADC Kentrox. Subrate support in the Cisco T3/E3 Network Module maximizes the utility of these products in service provider environments for tiered DS3 services. By simultaneously supporting interoperability with a wide range of third-party DSU vendors, this network module offers the flexibility to support installed equipment without locking customers into a proprietary solution.
| | |
| --- | --- |
| Compliant Standards | ANSI T1.102, ANSI T1.107 |
| Data Link Protocol | ATM, HDLC, Frame Relay, PPP |
| Data Transfer Rate | 44.736 Mbps |
| Device Type | Expansion module |
| Dimensions (WxDxH) | 7.1 in x 7.2 in x 1.5 in |
| Form Factor | Plug-in module |
| Line Rate | T-3/E-3 |
| Product Description | Cisco T3/E3 Network Module - expansion module |