Have questions? Call us now!
847-468-8900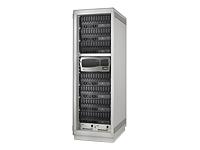 NetApp NearStore R100 - NAS server
NetApp NearStore R100 - NAS - 7 TB - RAID 1, 5 - Ethernet 10/100 - 36U
Every enterprise needs to protect business-critical data. Back up directly to tape from primary storage is the conventional approach. A principal problem with this method is that it must be confined to off-peak hours because it impacts the performance of primary online storage. Making matters worse for global enterprises, accelerating data growth and shrinking time windows for tape backup aggravate this problem. Recovering data from tape presents another critical issue: it can be arduous and time-consuming, all while your applications - and business - are offline.A data protection architecture using the NetApp NearStore system in concert with a tape library addresses the problems with direct backup to tape. NearStore perfectly complements and dramatically improves existing tape backup processes by inserting economical and simple-to-use disk-based storage between application storage and tape libraries, in a two-stage backup configuration.Almost any type of primary storage can be backed up to NearStore - servers (UNIX, Windows, etc.); RAID and JBOD storage; desktop and notebook computers; and, of course, NetApp filers. The combination of NetApp SnapVault software with NearStore delivers a robust and fully integrated appliance - a compelling NetApp filer backup solution.Backing up directly to NearStore and then to tape enhances data protection management and improves primary storage and tape library performance. Backup to NearStore is faster and consumes less application-server CPU than direct backup to tape. Maximize throughput by streaming backups from NearStore to tape, and extend traditional backup windows since primary storage is not involved.Software that utilizes incremental block transfers to back up data to NearStore - like SnapVault - provides additional benefits. Low network bandwidth consumption makes remote system backup over almost any WAN practical. In addition, these solutions back up data more efficiently on NearStore.These performance and management improvements significantly reduce backup resource requirements and lower costs.Recovering from disasters is a critical business imperative, and time-to-recovery directly affects an organization's bottom line. With NearStore, high throughput and instant access result in much faster data recovery than from tape. In addition, by keeping recently backed up data on NearStore, you can often quickly recover individual files, rather than tediously remounting a full backup. With NearStore, you can restart your business in minutes, dramatically reducing the business impact of unplanned emergencies.NetApp NearStore makes online archives of infrequently accessed data affordable. It provides much faster access to data for costs comparable to high-end tape or optical systems. Built with renowned NetApp simplicity and reliability, NearStore offers vast archive capacity with minimal ongoing management cost. NearStore is an especially good solution for e-mail archives, as well as archiving medical and satellite images, MCAD drawings, integrated chip designs, home directories, etc. Now you can have all your valuable data online.
| | |
| --- | --- |
| Device Type | NAS server |
| Dimensions (WxDxH) | 24 in x 36.2 in x 73.2 in |
| Enclosure Type | 36U |
| Hard Drive | Hot-swap |
| Host Connectivity | Ethernet 10/100 |
| Installed Devices / Modules Qty | 84 (max) |
| Max Supported Capacity | 7 TB |
| Networking | Network adapter - Ethernet, Fast Ethernet |
| Power | AC 230 V |
| Power Redundancy | Yes |
| Product Description | NetApp NearStore R100 - NAS server |
| Storage Controller | RAID - RAID 1, 5 |
| Total Storage Capacity | 7 TB |