Have questions? Call us now!
847-468-8900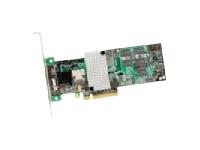 LSI MegaRAID SAS 9260-4i - storage controller (RAID) - SATA-600 / SAS - PCI Express 2.0 x8
LSI MegaRAID SAS 9260-4i - Storage controller (RAID) - 4 Channel - SATA-600 / SAS low profile - 600 MBps - RAID 0, 1, 5, 6, 10, 50, 60 - PCI Express 2.0 x8
LSI MegaRAID SATA + SAS controllers provide a new level of reliability, availability, and performance to businesses that are facing storage challenges driven by unprecedented data growth. With data transfer rates of up to 6Gb/s per port, the MegaRAID SAS 9260-4i brings users features and improved performance, while continuing to support all the features of the previous 3Gb/s SATA + SAS generation. This value line controller, ideal for cost-sensitive 1U and 2U server applications, employs the latest in RAID-on-Chip technology, complies with the PCI Express 2.0 specification, and provides additional data security using LSI SafeStore encryption services.6Gb/s SAS is designed for backward compatibility with 3Gb/s SAS as well as with 6Gb/s and 3Gb/s SATA hard drives. Regardless of the drive speed, 6Gb/s MegaRAID controllers will deliver significant performance improvements in both read and write applications as compared to their 3Gb/s predecessors. Other features of the 6Gb/s MegaRAID SATA+SAS controllers include greater signal integrity using decision feedback equalization, support for more sophisticated SAS topologies using expander self-discovery/self-configuration, and additional safeguards to enhance data protection.LSI is pleased to introduce SafeStore encryption services, which include instant secure erase for self-encrypting drives (SEDs). This techno-logy represents a significant step forward in securing a drive's data from any unauthorized access or modification resulting from theft, loss, or repurposing of drives. Instant secure erase cryptographically erases an SED, in less than a second. This allows for secure drive returns or reuse.The MegaRAID Management Suite provides the essential software tools to efficiently manage MegaRAID products, whether deployed in an enterprise or small business. LSI offers a collection of applications and tools including a pre-boot setup utility and a full spectrum of online RAID management utilities. This suite of applications allow administrators to adjust SAS topology views from the system host, controller and disk enclosure down to the logical and physical drive level. Extending to enterprise deployments, these tools scale to easily configure, monitor and manage RAID volumes locally or over the LAN network.
| | |
| --- | --- |
| Buffer Size | 512 MB |
| Channel Qty | 4 |
| Controller Interface Type | Serial ATA-600 / SAS |
| Data Transfer Rate | 600 MBps |
| Device Type | Storage controller (RAID) - plug-in card - low profile |
| Interface Type | PCI Express 2.0 x8 |
| Max Storage Devices Qty | 32 |
| Product Description | LSI MegaRAID SAS 9260-4i - storage controller (RAID) - SATA-600 / SAS - PCI Express 2.0 x8 |
| RAID Level | RAID 0, RAID 1, RAID 5, RAID 6, RAID 10, RAID 50, RAID 60 |
| Supported Devices | Disk array (RAID) |