Have questions? Call us now!
847-468-8900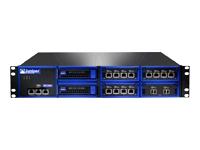 Juniper Networks IDP 8200 - security appliance
Juniper Networks IDP 8200 - Security appliance
Juniper Networks Intrusion Detection and Prevention (IDP) products provide comprehensive and easy-to-use in-line protection that stops network and application-level attacks before they inflict any damage to the network, minimizing the time and costs associated with maintaining a secure network. Using industry-recognized stateful detection and prevention techniques, Juniper Networks IDP provides zero-day protection against worms, Trojans, spyware, keyloggers and other malware from penetrating the network or spreading from already infected users.Juniper Networks IDP not only helps protect networks against attacks, it provides information on rogue servers, as well as types and versions of applications and operating systems that may have unknowingly been added to the network. Application signatures, available on the Juniper Networks IDP, goes a step further and enables accurate detection of specific applications such as peer-to-peer or instant messaging. Armed with the knowledge of specific applications running in the network, administrators can more easily enforce security policies and maintain compliance with corporate application use policy. Juniper Networks IDP also provides DiffServ markings to allow the routers to enforce bandwidth limitations on non-essential applications. Not only can administrators control the access of specific applications, but they can ensure that business-critical applications receive a predictable quality of service.Juniper Networks IDP products are managed by Juniper Networks NetScreen-Security Manager (NSM), a centralized, rule-based management solution offering granular control over the system's behavior. NSM also provides easy access to extensive logging, fully customizable reporting, and management of all Juniper Networks firewall/VPN/IDP systems from a single user interface. With the combination of highest security coverage, granular network control and visibility and centralized management, Juniper Networks IDP is the best solution to keep critical information assets safe.Juniper Networks IDP 8200 offers market-leading performance with 10Gbps of real-world throughput and is also suited for large enterprises and service providers. The large throughput also enables the deployment of IPS appliance at the network core in addition to the network perimeter to secure and enforce quality of service (QoS) within the corporate network. The built-in ByPass features as well as separation of control and data plane makes the IDP 8200 an ideal solution for networks requiring the highest throughput and reliability.
| | |
| --- | --- |
| Device Type | Security appliance |
| Dimensions (WxDxH) | 17 in x 19 in x 3.4 in |
| Features | DoS attack prevention, DiffServ support, Intrusion Detection System (IDS), High Availability, Intrusion Prevention System (IPS), Quality of Service (QoS), built-in hardware bypass |
| Hard Drive | 74 GB x 2 |
| Performance | Throughput : 10 Gbps |
| Power | AC 120/230 V ( 50/60 Hz ) |
| Product Description | Juniper Networks IDP 8200 - security appliance |
| RAM Installed ( Max ) | 16 GB |
| Weight | 41 lbs |