Have questions? Call us now!
847-468-8900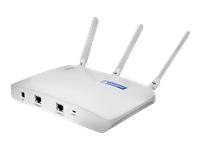 Juniper Networks AX411 Wireless Access Point - wireless access point
Juniper Networks AX411 Wireless Access Point - Wireless access point - 802.11n - 802.11 a/b/g/n - external
The Juniper Networks AX411 is a high-performance, 802.11a/b/g/n wireless LAN (WLAN) access point. It is a dual band, dual radio solution that supports data rates up to 300Mbps. The AX411 integrates with the award winning Juniper Networks SRX Series Services Gateways for the branch to deliver security throughput that leads in its category. The AX411 is fully managed by branch SRX series devices using Juniper Networks Junos OS. The AX411 is an ideal wireless networking solution for branch offices with simple WLAN architectures.The AX411 Wireless Access Point extends the reach of Juniper Networks Junos operating system to lower deployment and operational costs across wired and wireless environments. Using cluster cloning, operators can ease management tasks by automating the configuration of any AX411 joining a cluster of access points. The product's over-the-air packet capture capabilities support centralized monitoring that allows offsite experts to analyze traffic and resolve problems.For locations with multiple access points, the branch SRX series provides wireless controller capabilities. All branch SRX Series Services Gateways can manage up to two AX411 access points without the need to purchase additional software licenses. Additional access points can be managed with the purchase of a software licenses. The AX411 supports 802.3af Power over Ethernet (PoE) for cost-effective installations based on industry standard technologies.By combining the SRX Series Services Gateways with the AX411 WLAN access point, designers can extend security and QoS architectures from wired networks to wireless networks. As a result, the overall infrastructure solution is consistent and secure. The AX411 can support a variety of user and device types with multiple unique SSIDs, each with specific security and QoS requirements.The AX411 integrates with Juniper's integrated convergence services capabilities on branch SRX series devices to extend enterprise voice over IP to untethered workers who are using Wi-Fi-enabled endpoints.
| | |
| --- | --- |
| Data Link Protocol | IEEE 802.11b, IEEE 802.11a, IEEE 802.11g, IEEE 802.11n |
| Device Type | Wireless access point |
| Dimensions (WxDxH) | 9.5 in x 5.8 in x 1.9 in |
| Enclosure Type | External |
| Features | MIMO technology, Quality of Service (QoS), Multiple SSID support |
| Power Over Ethernet (PoE) | Yes |
| Product Description | Juniper Networks AX411 Wireless Access Point - wireless access point |