Have questions? Call us now!
847-468-8900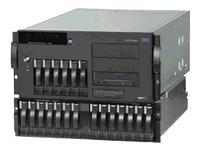 IBM TotalStorage NAS 200 Model 226 - NAS server
IBM TotalStorage NAS 200 Model 226 - NAS - rack-mountable - Ultra160 SCSI 3 - CD-ROM x 1 - floppy disk x 1 - RAID 0, 1, 5, 10, 50, 5E, 1E, 1E0 - Ethernet 10/100 - 5U
IBM TotalStorage Network Attached Storage 200 products are just one part of the overall IBM Storage Networking offering of hardware, software and services. IBM NAS products provide you with one more building block to increase the flexibility, efficiency and effectiveness of your storage networking solutions and deployments. Also, because NAS products are based on an open-system concept, their storage is designed to be as easy to expand in the future as the system is to install now, into both heterogeneous and homogeneous network environments.The IBM NAS 200 series models are LAN-attached, high-performance appliances designed to provide shared storage to both clients and servers in Windows, UNIX or mixed environments. The affordability and scalability of the IBM NAS 200 series make it an excellent choice for those who are reducing their use of general-purpose servers for storage. With its multiprotocol support, the IBM NAS 200 series enables clients to share files in a heterogeneous environment with Windows and UNIX. This multiple-platform support eliminates the need for separate storage for each protocol.The IBM NAS 200 Model 226 is a rack-based configuration that offers performance, with added room to grow as network storage needs expand.
| | |
| --- | --- |
| Device Type | NAS server |
| Dimensions (WxDxH) | 17.3 in x 27.1 in x 8.5 in |
| Enclosure Type | Rack-mountable - 5U |
| Hard Drive | 3 hot-swap Ultra160 SCSI |
| Hard Drive (2nd) | None. |
| Host Connectivity | Ethernet 10/100 |
| Installed Devices / Modules Qty | 3 (installed) / 6 (max) |
| Networking | Network adapter - integrated - Ethernet, Fast Ethernet |
| Optical Storage | 1 x CD-ROM - IDE - 48x (read) |
| Power | AC 110/220 V � 10% ( 50/60 Hz ) |
| Power Redundancy | Yes |
| Processor | 2 x Intel Pentium III 1.133 GHz |
| Product Description | IBM TotalStorage NAS 200 Model 226 - NAS server |
| Storage Controller | 1 x RAID - PCI 64 - Ultra160 SCSI - RAID 0, 1, 5, 10, 50, 5E, 1E, 1E0 |
| Storage Removable | 1 x floppy disk - 3.5" x 1/3H - 1.44 MB |
| System Requirements | UNIX, Apple MacOS, Novell NetWare 4.x, Microsoft Windows 2000 / NT4.0, Novell NetWare 5.x |
| Weight | 79.8 lbs |