Have questions? Call us now!
847-468-8900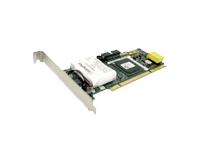 IBM ServeRAID 6i+ Controller
IBM ServeRAID 6i+ - Storage controller (zero-channel RAID) - Ultra320 SCSI low profile - 320 MBps - RAID 0, 1, 5, 10, 50, 1E, 1E0, 00, 5EE - PCI-X
This innovative PCI-X controller option works directly with the onboard SCSI chipset to provide RAID-protected data storage in select IBM eServer xSeries servers. It supports both Ultra320 and Ultra160 SCSI hard disk drive (HDD) technologies. Install this controller in your entry- and midrange xSeries servers for economical, RAID-protected, data-storage solutions. It provides investment protection and ease-of-use through the same ServeRAID Manager software used with other ServeRAID controllers. This helps minimize the need for additional training of IT staff and can help lower the total cost of ownership to manage and control large numbers of ServeRAID-protected, xSeries servers deployed throughout the enterprise. This controller option has been rigorously tested through the IBM ServerProven program for your peace of mind that your xSeries server storage subsystem is compatible and will function reliably.