Have questions? Call us now!
847-468-8900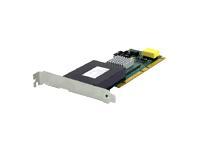 IBM ServeRAID 5i - storage controller (RAID) - Ultra320 SCSI - PCI 64
IBM ServeRAID 5i - Storage controller (RAID) - Ultra320 SCSI - 320 MBps - RAID 0, 1, 5, 10, 50, 1E, 1E0, 00 - PCI 64
The ServeRAID-5i Controller is an innovative PCI controller that works directly with the onboard LSI 1030 SCSI chipset to provide RAID-protected data storage to selected xSeries servers. It supports both Ultra320 and Ultra160 SCSI HDD technologies. The PCI ServeRAID-5i supports the HDDs in the six bays of the engine as well as either the 25T 3-Disk Expansion, or one IBM 5194 NAS Storage Unit Model EXP. It may optionally be paired with one PCI ServeRAID 4Mx Adapter. It provides 128 MB battery-backed cache and supports RAID levels 0, 1, 5, 00, 10, 50, 1E, and 1E0.This controller makes it easy to afford and deploy high-performing RAID configurations to help protect your data and help keep systems available. Thanks to efficient, low-profile design, it smoothly integrates with densely packed, rack-mounted servers to help streamline your data center. And by using onboard SCSI technology, it drives down the cost of enterprise-class data protection.The cost-efficient "zero channel" design of the ServeRAID-5i Controller allows it to operate through the SCSI interface that's built into the motherboard of select xSeries systems. It delivers full hardware RAID functionality by taking control of the onboard Ultra320 SCSI chip in these servers. It's able to transform the built-in basic mirroring capability of the chip into dual RAID channels that support nine different levels of RAID protection. The combination of low-cost, efficient design and patented IBM technology make this controller an extraordinary value for small to medium businesses, as well as departmental and workgroup serving. With the latest Intel 80303 I/O processor, it's a power-packed, intelligent controller that you can rely on to maintain your data's integrity. The sizable battery-backed cache keeps power interruptions from endangering your data.
| | |
| --- | --- |
| Buffer Size | 128 MB |
| Controller Interface Type | Ultra320 SCSI |
| Data Transfer Rate | 320 MBps |
| Device Type | Storage controller (RAID) - plug-in card |
| Dimensions (WxDxH) | 7.5 in x 2.3 in |
| Interface Type | PCI 64 / 66 MHz |
| Max Storage Devices Qty | 28 |
| Product Description | IBM ServeRAID 5i - storage controller (RAID) - Ultra320 SCSI - PCI 64 |
| RAID Level | RAID 0, RAID 1, RAID 5, RAID 10, RAID 50, RAID 1E, RAID 1E0, RAID 00 |
| Supported Devices | Disk array (RAID) |
| System Requirements | Microsoft Windows NT 4.0, Novell NetWare 5.1, Microsoft Windows 2000 Server, Microsoft Windows 2000 Advanced Server, IBM OS/2 Warp Server for e-business, Microsoft Windows 2000 Datacenter Server, Caldera OpenUnix 8, Novell NetWare 6, Red Hat Linux 7.2, SuSE Linux 7.3, SCO OpenServer 5.0.6A, Caldera OpenLinux Server 3.1.1, TurboLinux 7, Red Hat Linux 7.3, SuSE Linux 8.0, Microsoft Windows NT Server Enterprise Edition, Caldera OpenLinux Workstation 3.1.1 |
| Weight | 0.4 lbs |