Have questions? Call us now!
847-468-8900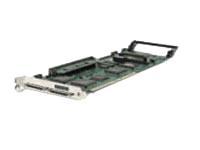 IBM ServeRAID 3HB Ultra2 SCSI Adapter
IBM ServeRAID 3HB - Storage controller (RAID) - 3 Channel - Ultra2 Wide SCSI - 80 MBps - RAID 0, 1, 5 - PCI 64
This ServeRAID-3HB Ultra2 SCSI Adapter offers Logical Drive Migration to let you add or remove disks or redefine arrays without shutting down your system. ServeRAID Manager is an easy-to-use Java-based utility for managing ServeRAID configurations across the enterprise and FlashCopy is an application for tape backup, software application testing, or image rollout. Also this adapter offers support for RAID levels 0, 1, 5, and 5 Enhanced plus the ability to change RAID level of existing configurations on-the-fly and redundant storage of vital RAID configuration data for greater system availability. Wide Ultra2 SCSI provides up to 80MBps data transfers (and cable lengths up to 25m) with advanced 64/32-bit high-performance PCI interface to help with bottlenecks and make you more productive. Plus, three channels support accessible from a single PCI slot, 32MB of cache and battery backup with its own 32MB of cache help provide superior data hit rates and improved system performance. Grow and adapt your Netfinity server system storage with three Ultra2 SCSI channels capable of supporting up to fifteen devices each (total support up to 45 devices).