Have questions? Call us now!
847-468-8900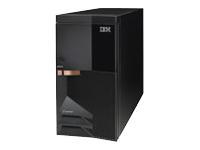 IBM eserver pSeries 610 6E1 - POWER3-II 450 MHz
IBM eserver pSeries 610 6E1 - Server - tower - 2-way - 2 x POWER3-II 450 MHz - RAM 8 GB - HDD 2 x 18.2 GB - CD - AIX 5.1 - Monitor : none
The IBM eserver pSeries 610 Model 6E1 Deskside Server gives you tools for managing e-business, greater application flexibility, and innovative technology, all designed to help you capitalize on the e-business revolution.The symmetric multiprocessor (SMP) uses one or two, state-of-the-art, 64-bit, copper-based, POWER3-II microprocessors running at 375 or 450 MHz. Each 375 MHz processor includes 4 MB of L2 cache, and each 450 MHz processor includes 8MB of L2 cache. The base 512 MB of main memory can be expanded to 8 GB for faster performance and exploitation of 64-bit addressing as used in large database applications. The Model 6E1 contains ten bays. The six front-accessible, hot-swap capable bays can accommodate up to 218.4 GB of disk storage. The remaining bays are used for a diskette drive, a CD-ROM or a DVD-RAM, an optional non-hot-swap disk, and an optional media device.To help keep strategic applications available 24 x 7, the Model 6E1 systems feature an integrated service processor that constantly monitors the systems' vital signs. If the system malfunctions, the service processor can "call home" by automatically dialing out to an IBM service center, often before any problem is apparent to users or system administrators. Light Path Diagnostics are also built into the Model 6E1. LEDs - physically located on key system components - assist in quick diagnosis and resolution of problems, should they arise.
| | |
| --- | --- |
| Cache Memory | 8 MB (installed) / 8 MB (max) - L2 cache |
| Cache Per Processor | 8 MB |
| Dimensions (WxDxH) | 8.5 in x 24.3 in x 16.8 in |
| Floppy Drive | 3.5" 1.44 MB floppy |
| Form Factor | Tower |
| Hard Drive | 2 x 18.2 GB - hot-swap - Ultra160 SCSI |
| Monitor | None. |
| Networking | Network adapter - PCI - Ethernet, Fast Ethernet |
| Optical Storage | CD-ROM |
| OS Provided | IBM AIX 5.1 |
| Power | AC 120/230 V ( 50/60 Hz ) |
| Processor | 2 POWER3-II 450 MHz |
| Product Description | IBM eserver pSeries 610 6E1 - POWER3-II 450 MHz |
| RAM | 8 GB (installed) / 8 GB (max) - SDRAM - ECC |
| Server Scalability | 2-way |
| Storage Controller | SCSI ( Ultra160 SCSI ) ; IDE ( IDE ) |
| Type | Server |
| Weight | 95 lbs |