Have questions? Call us now!
847-468-8900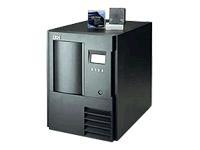 IBM 3583 Ultrium Scalable - tape library - no tape drives - SCSI
IBM 3583 Ultrium Scalable - Tape library - 7.2 TB / 14.4 TB - slots: 72 - no tape drives ( 100 GB / 200 GB ) - max drives: 6 - SCSI - external - bar code reader
IBM sets new standards for the Open Tape Market with its new family of Ultrium Tape Solutions. Ultrium is the first product from the Linear Tape Open Consortium and is an open, independently controlled and certified tape standard. It is designed for the server, Network Attached Storage and Storage Area Network environment.By fully leveraging advanced Linear Tape-Open (LTO) technology, the IBM Ultrium Scalable Tape Library provides an ideal solution for cost-effectively handling a wide range of backup, archive, and disaster recovery data storage needs. The breakthrough reliability, capacity and performance of LTO offers an excellent alternative to DLT, 8mm, 4mm, or 1/4-inch tape drives for streaming data applications such as backup.
| | |
| --- | --- |
| Data Transfer Rate (native) | 15 MBps ( 52.7 GBph ) |
| Device Type | Tape library - no tape drives |
| Dimensions (WxDxH) | 18.9 in x 28.9 in x 25 in |
| Enclosure Type | External |
| Interface Type | SCSI |
| Key Features | Bar code reader |
| Max Supported Drives | 6 |
| OS Required | IBM AIX, SunSoft Solaris, IBM OS/400, HP-UX, Microsoft Windows 2000, Microsoft Windows NT, Red Hat Linux |
| Power | AC 100/240 V ( 50/60 Hz ) |
| Product Description | IBM 3583 Ultrium Scalable - tape library - no tape drives - SCSI |
| Removable Media Capacity | 72 |
| Storage Removable | No tape drives |
| Storage Removable Capacity | 100 GB (native) / 200 GB (compressed) |
| Supported Tape Drives | LTO Ultrium 1 |
| Total Storage Capacity | 7.2 TB (native) / 14.4 TB (compressed) |