Have questions? Call us now!
847-468-8900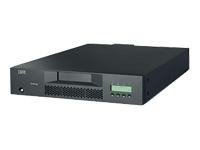 IBM 3581 Model F28 - tape autoloader - LTO Ultrium - Fibre Channel
IBM 3581 Model F28 - Tape autoloader - 1.6 TB / 3.2 TB - slots: 8 - LTO Ultrium ( 200 GB / 400 GB ) - Ultrium 2 - Fibre Channel - external - 2U
The IBM TotalStorage Ultrium Tape 2U Autoloader 3581 and storage management applications address capacity and performance requirements, data protection, reliability, availability, affordability, and application requirements to constitute a functionally rich entry tape storage solution incorporating LTO Ultrium tape technology. The IBM 3581 is an excellent solution for larger-capacity or higher-performance tape backup with or without random access. The 3581 models are an excellent choice for tape automation for IBM eServer pSeries, iSeries, xSeries, RS/6000, AS/400, and other popular non-IBM open systems.
| | |
| --- | --- |
| Data Transfer Rate (native) | 35 MBps ( 123 GBph ) |
| Device Type | Tape autoloader - LTO Ultrium |
| Dimensions (WxDxH) | 19 in x 34 in x 3.5 in |
| Enclosure Type | External - 2U |
| Interface Type | Fibre Channel |
| OS Required | SunSoft Solaris 7, HP-UX 11.0, Microsoft Windows 2000, SunSoft Solaris 8, HP-UX 11i, SunSoft Solaris 9, IBM AIX 5L 5.2, SuSE Linux Enterprise Server 8, UnitedLinux 1.0, IBM OS/400 5.1 or later, IBM AIX 5L 5.1, Microsoft Windows Server 2003, TurboLinux Enterprise Server 8, Conectiva Linux Enterprise Edition, Red Hat Enterprise Linux 3 |
| Power | AC 120/230 V ( 50/60 Hz ) |
| Product Description | IBM 3581 Model F28 - tape autoloader - LTO Ultrium - Fibre Channel |
| Recording Standard | LTO Ultrium 2 |
| Removable Media Capacity | 8 |
| Storage Removable | LTO Ultrium |
| Storage Removable Capacity | 200 GB (native) / 400 GB (compressed) |
| Supported Tape Drives | LTO Ultrium |
| Total Storage Capacity | 1.6 TB (native) / 3.2 TB (compressed) |
| Weight | 12.6 lbs |