Have questions? Call us now!
847-468-8900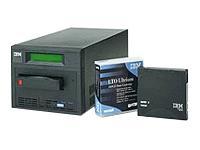 IBM 3580 Model H11 - tape drive - LTO Ultrium - SCSI
IBM 3580 Model H11 - Tape drive - LTO Ultrium ( 100 GB / 200 GB ) - Ultrium 1 - SCSI HVD - external
The IBM 3580 is the Ultrium tape drive with industry-leading software applications that offer high capacity and performance. The IBM Ultrium tape solutions are the ideal choice for backup, save/restore, and archival data storage needs of your server.The IBM 3580 tape drive model H11 features an Ultra/Wide SCSI High Voltage Differential (HVD) interface. The 3580 tape drive can be attached to the IBM AS/400, IBM RS/6000, IBM RS/6000 SP systems, Netfinity, and non-IBM servers, workstations, and personal computers that support Ultra/Wide SCSI HVD and Ultra2/Wide SCSI LVD interface specifications.
| | |
| --- | --- |
| Data Transfer Rate (native) | 15 MBps ( 52.7 GBph ) |
| Device Type | Tape drive - LTO Ultrium |
| Dimensions (WxDxH) | 6.7 in x 13.1 in x 5.7 in |
| Enclosure Type | External |
| Interface Type | SCSI HVD |
| OS Required | SunSoft Solaris 2.6, SunSoft Solaris 7, HP-UX 11.0, IBM AIX 4.3.3, SunSoft Solaris 8, IBM AIX 4.3.2, Microsoft Windows 2000 / NT4.0, Red Hat Linux 7.0 |
| Power | AC 100/240 V ( 50/60 Hz ) |
| Product Description | IBM 3580 Model H11 - tape drive - LTO Ultrium - SCSI |
| Recording Standard | LTO Ultrium 1 |
| Storage Removable | LTO Ultrium |
| Storage Removable Capacity | 100 GB (native) / 200 GB (compressed) |
| Weight | 14.6 lbs |