Have questions? Call us now!
847-468-8900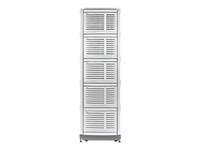 HP Server rx5670 - Itanium 2 900 MHz
HP Server rx5670 - Server - rack-mountable - 7U - 4-way - 1 x Itanium 2 900 MHz - RAM 0 MB - SCSI - hot-swap 3.5" - no HDD - Gigabit Ethernet - Monitor : none
Jump-start your business with the 4-way HP Server rx5670. With 900MHz or 1GHz Intel Itanium 2 CPUs and up to 48GB of memory, you achieve more performance, improve business processes and manage your IT more efficiently. The rx5670 empowers technical computing users to process more transactions, do more in-depth analysis, run complex models faster and render high-quality images with optimized performance. Commercial computing users will run their applications with superior performance, decreased costs, and reduced complexity.HP's extensive Itanium-based systems experience and co-developer insights resulted in unmatched system performance gains through the development of the HP scalable processor chipset zx1. Invented by HP, the HP zx1 chipset fully unleashes the power of Intel Itanium 2 processors by lowering memory latencies and increasing memory and I/O subsystem scalability. With the HP zx1 chipset, HP Itanium 2-based servers achieve industry-leading performance and memory expandability. Applications currently based on HP's PA-RISC, IA-32 Windows and Linux are binary-compatible with HP's Itanium-based platforms. This compatibility greatly increases the availability of major technical and commercial third-party applications. To achieve even greater performance, HP is working with leading independent software vendors (ISVs) in both the technical and commercial markets to optimize their applications to the Intel Itanium 2 microarchitecture, thereby exploiting the full potential of HP's Itanium-based systems.By clustering the rx5670 with other HP Itanium-based systems, you can consolidate resources such as I/O, bandwidth, memory, mass storage and compute capacity. HP's high availability cluster solutions ensure data integrity, maximize application availability and minimize planned maintenance time. Regardless of your choice of HP-UX, Linux, or Windows, HP has a powerful, flexible, highly available and easily managed cluster solution to meet your needs.
| | |
| --- | --- |
| Cache Memory | 1.5 MB L3 cache |
| Cache Per Processor | 1.5 MB |
| Dimensions (WxDxH) | 19 in x 30.5 in x 12.2 in |
| Form Factor | Rack-mountable - 7U |
| Hard Drive | None. |
| Localization | English / United States |
| Monitor | None. |
| Networking | Network adapter - Ethernet, Fast Ethernet, Gigabit Ethernet |
| Power | AC 120/230 V ( 50/60 Hz ) |
| Processor | 1 x Intel Itanium 2 900 MHz |
| Product Description | HP Server rx5670 - Itanium 2 900 MHz |
| RAM | 0 MB (installed) / 48 GB (max) - ECC |
| Server Scalability | 4-way |
| Server Storage Bays | Hot-swap 3.5" |
| Storage Controller | SCSI ( Ultra160 SCSI ) ; IDE ( IDE/ATA ) |
| Type | Server |
| Weight | 160.1 lbs |