Have questions? Call us now!
847-468-8900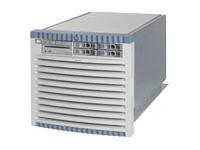 HP Server rp7410 - no CPU
HP Server rp7410 - Server - rack-mountable - 10U - 8-way - RAM 0 MB - hot-swap 3.5" - no HDD - Gigabit Ethernet - Monitor : none - remarketed
Today's businesses must focus on business fundamentals while facing a rapidly changing environment. New business imperatives demand that information technology (IT) solutions be dependable enough to run the business on, adaptable enough to keep pace with changing business requirements, and efficient enough to maximize business profitability. The HP Server rp7410 has been designed to address these business imperatives. The rp7410 combines rock-solid dependability with comprehensive management and extremely low operational costs. This reliable, high-performance midrange server has the ability to get the job done on time and on budget while improving efficiency and delivering better return on investment (ROI). And the rp7410 actually minimizes business risk by ensuring IT resources can meet fast-changing requirements, leading to greater business profitability today and tomorrow.The HP Server rp7410 provides an extremely robust computing environment to ensure dependable operation. With up to eight PA-RISC processors, the rp7410 can handle demanding workloads. The rp7410 also offers the most comprehensive midrange high availability feature set in the market, including preventative design, proactive automatic monitoring and fault correction, and redundant components to avoid system failure.The rp7410's superior hardware is complemented by its industry leading HP-UX 11i operating system - the only enterprise UNIX OS that's available with the Intel Itanium Processor Family (IPF). With a choice of four pre-integrated and tested operating environments, HP-UX 11i allows for quick and effortless deployment. Running HP-UX 11i on the rp7410 also provides integrated security features and up to eight virtual partitions. Over 1, 600 applications from leading partners are available on HP-UX 11i. And of course, the rp7410 and HP-UX 11i are from HP, the proven leader in midrange computing solutions since 1997.The adaptable rp7410 allows businesses to evolve their data center or IT environment intelligently. With best-in-class provisioning and partitioning capabilities, the rp7410 allows businesses to adjust computing resources to workload requirements. The rp7410 is ready to deliver long-lasting value, with easy in-box upgrade paths to future PA-RISC and Itanium Processor Family (IPF) technologies, the 16-way HP Server rp8400, and a program to migrate existing rp7400 (N-class) and competitive servers to the rp7410. And HP services can help your business quickly adjust to the fast-changing needs of today's marketplace.The rp7410 provides unparalled levels of operational efficiency in the data center. Its form factor allows four servers to fit in a standard two-meter rack, packing the maximum performance into every square meter of valuable data center space and allowing unsurpassed consolidation capabilities. Innovative utility computing solutions such as pay-per-use, pay-per-forecast, and instant capacity on demand (iCOD) reduce upfront investment and allow businesses to better manage their capital.Pre-integrated administration tools such as cluster management, together with added authentication and encryption features, provide easier management, more security, and higher quality of service. As a result, the rp7410 has the industry's lowest operational costs! The rp7410 has the dependability, adaptability, and efficiency businesses demand to serve as the critical foundation of the data center infrastructure.
| | |
| --- | --- |
| Dimensions (WxDxH) | 19 in x 30 in x 17.5 in |
| Form Factor | Rack-mountable - 10U |
| Hard Drive | None. |
| Monitor | None. |
| Networking | Network adapter - Ethernet, Fast Ethernet, Gigabit Ethernet |
| Power Redundancy | Yes |
| Pricing Type | Remarketed |
| Processor | No CPU |
| Product Description | HP Server rp7410 - no CPU |
| RAM | 0 MB (installed) / 32 GB (max) - ECC Chipkill |
| Server Scalability | 8-way |
| Server Storage Bays | Hot-swap 3.5" |
| Storage Controller | SCSI ( Ultra160 SCSI ) |
| Type | Server |
| Weight | 220 lbs |