Have questions? Call us now!
847-468-8900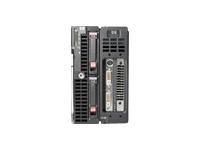 HP ProLiant WS460c G6 Graphics Expansion Blade - no CPU
HP ProLiant WS460c G6 Graphics Expansion Blade - Blade - 2-way - RAM 0 MB - no HDD - no graphics - Gigabit Ethernet, 10 Gigabit Ethernet - no OS - Monitor : none - CTO
The HP ProLiant WS460c G6 Workstation Blade allows you to centralize your organization's workstations in the data center - revolutionizing workstation computing. Rather than placing the workstation's computing power at the user's desk, the computing power - in the form of a blade workstation - is moved to the data center, where workstations can be more easily, securely, and economically managed. The results are improved uptime and business continuity, enhanced data center security, and reduced IT costs.This next-generation workstation infrastructure combines the centralized, mission-critical control and security of the data center with seamless, on-demand workstation performance, providing the flexibility to support professionals in multiple work locations.The WS460c provides for an improved user environment, better resource utilization, easy remote access, and real-time, remote collaboration between individuals and teams. It can transform your workstation environment to make your users more productive.
| | |
| --- | --- |
| Dimensions (WxDxH) | 4.4 in x 20.1 in x 7.2 in |
| Form Factor | Blade |
| Graphics Controller | No graphics |
| Hard Drive | None. |
| Monitor | None. |
| Networking | Network adapter - PCI Express x4 - Ethernet, Fast Ethernet, Gigabit Ethernet, 10 Gigabit Ethernet - Ethernet Ports : 2 x 10 Gigabit Ethernet |
| OS Provided | No operating system |
| Pricing Type | CTO |
| Processor | No CPU |
| Product Description | HP ProLiant WS460c G6 Graphics Expansion Blade - no CPU |
| RAM | 0 MB (installed) / 192 GB (max) - DDR3 SDRAM |
| Server Scalability | 2-way |
| Storage Controller | RAID ( Serial ATA-150 / SAS ) - PCI Express x4 ( Smart Array P410i ) |
| Type | Workstation |