Have questions? Call us now!
847-468-8900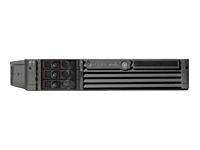 HP Integrity rx2620-2 - Itanium 2 1.6 GHz
HP Integrity rx2620-2 - Server - rack-mountable - 2U - 2-way - 1 x Itanium 2 1.6 GHz - RAM 1 GB - SCSI - hot-swap 3.5" - HDD 1 x 36 GB - DVD-RW - Gigabit Ethernet - Monitor : none
HP's insight as an Itanium processor co-developer, and the extensive experience with Itanium-based systems, have produced unmatched HP system performance gains through the development of the HP Scalable Processor Chipset zx1 for high-performance computing. Invented by HP, the zx1 chipset fully unleashes the power of Intel Itanium 2 processors by lowering memory latencies and increasing memory and I/O subsystem scalability. In addition, the zx1 chipset allows the HP Integrity rx2620-2 server to run multiple operating systems for maximum deploy/redeploy utility. With the HP zx1 chipset, HP Integrity servers based on Intel Itanium 2 processors achieve industry-leading performance and memory expandability.The new HP Integrity rx2620-2 server offers leading price/performance and scalability choices by utilizing the broadest range of Intel Itanium 2 processors and both low-voltage and high-performance CPUs. The HP Integrity rx2620-2 server offers tremendous growth potential by enabling in-chassis upgrades to future Intel Itanium processors. And, the rx2620-2 is now available with Integrated Lights Out (iLO) remote management functionality, which enables a system administrator to manage and monitor all of their servers remotely from a web browser.The performance achieved through the Intel Itanium 2 processor and the accompanying HP zx1 chipset is further enhanced when HP Integrity rx2620-2 servers are used in HP's proven clustering solutions. Because each HP Integrity rx2620-2 server is only 3.4 inches high (2U), clustering multiple servers packs unprecedented performance into a densely racked, low-priced solution. Up to 20 Integrity rx2620-2 servers can be clustered in an industry-standard cabinet, resulting in increased data integrity, greater efficiency, reduced planned maintenance time, and even higher availability through consolidation of system resources. Clusters allow the consolidation of system resources such as I/O, bandwidth, memory, mass storage, and compute capacity.
| | |
| --- | --- |
| Cache Memory | 6 MB L3 cache |
| Cache Per Processor | 6 MB |
| Dimensions (WxDxH) | 19 in x 26.8 in x 3.4 in |
| Form Factor | Rack-mountable - 2U |
| Hard Drive | 1 x 36 GB - hot-swap - Ultra320 SCSI |
| Monitor | None. |
| Networking | Network adapter - Ethernet, Fast Ethernet, Gigabit Ethernet |
| Optical Storage | DVD-RW |
| Power | AC 120/230 V ( 50/60 Hz ) |
| Power Redundancy | Optional |
| Processor | 1 x Intel Itanium 2 1.6 GHz |
| Product Description | HP Integrity rx2620-2 - Itanium 2 1.6 GHz |
| RAM | 1 GB (installed) / 24 GB (max) - DDR SDRAM - ECC - 266 MHz - PC2100 |
| Server Scalability | 2-way |
| Server Storage Bays | Hot-swap 3.5" |
| Storage Controller | SCSI ( Ultra320 SCSI ) ; IDE |
| Type | Server |
| Weight | 55.1 lbs |