Have questions? Call us now!
847-468-8900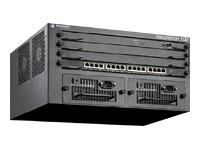 Foundry SecureIron Traffic Manager 100 - security appliance
Foundry SecureIron Traffic Manager 100 - Security appliance - 1 / 4 - DC power - external
Organizations increasingly rely on IP networks to deliver applications that are critical to business productivity and profits. Securing this infrastructure against debilitating attacks from malicious users is necessary to ensure sustained business operations. Mobility, convergence, and Web-centric applications are rendering centralized security models ineffective. Today, organizations require distributed, network-wide, security architectures to protect against threats from outside the network and to minimize vulnerabilities inside the network. Furthermore, the line between Internet and intranet is fading fast as users become more mobile and less identifiable. In such an open infrastructure, the threats are not concentrated at a single entry point at the network perimeter, but are network wide. Attacks are also becoming more sophisticated and exploiting application-level vulnerabilities to cripple critical IP services.The Foundry Networks SecureIron traffic managers deliver high-performance Layer 2 through 7 switching and security, enabling organizations to achieve a highly secure and scalable network and application infrastructure. These security traffic managers are designed to protect against network- and application-layer threats network wide - at the network perimeter, inside the data center, and within the enterprise LAN. The SecureIron traffic managers are specially built for inline networkwide deployment to provide perimeter-like security enforcement inside the LAN against threats within the enterprise network. Foundry's SecureWorks software suite powers the SecureIron, protecting the network and applications against high-speed attacks.The SecureIron traffic managers enforce highly customizable security policies and prevent intrusions, transparently protecting against attacks targeting any IP application. These switches also feature specialized security protection for Web, Domain Name System (DNS), Voice over IP (VoIP), Session Initiation Protocol (SIP), and e-mail applications.This product is a 4-slot chassis equipped with one SSM6-1 (security switch management module), one -48V DC power supply (redundant power supply optionally available).
| | |
| --- | --- |
| Capacity | Concurrent sessions : 1000000 |
| Device Type | Security appliance |
| Dimensions (WxDxH) | 17.5 in x 15 in x 8.7 in |
| Enclosure Type | External |
| Features | Flow control, modular design, firewall protection, hot swap module replacement, switching, layer 2 switching, NAT support, load balancing, VLAN support, traffic shaping, DoS attack prevention, content filtering, packet filtering, port mirroring, manageable, MAC address filtering, antivirus analysis, High Availability, URL filtering, Deep Packet Inspection (DPI) |
| Network / Transport Protocol | TCP/IP, UDP/IP, VoIP, ICMP/IP |
| Power | DC -48 V |
| Product Description | Foundry SecureIron Traffic Manager 100 - security appliance |
| Remote Management Protocol | SNMP, RMON, Telnet, SNMP 2c, HTTP, HTTPS |
| Weight | 65.9 lbs |