Have questions? Call us now!
847-468-8900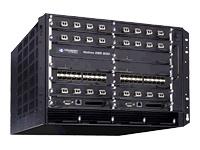 Foundry NetIron XMR 8000 - router
Foundry NetIron XMR 8000 - Router - 7U - external
The NetIron XMR-series routers are the industry's most powerful IPv4/IPv6/MPLS multi-service routers. Based on a superior Terabit scale architecture comprising state of the art network processors, the NetIron XMR-series offers highly versatile, cost efficient solutions that allow services providers to deploy high value and profitable services.The series offers industry leading port capacity and density with up to 64 10GbE / 320 1GbE ports per system, and up to 192 10GbE / 960 1GbE ports in a standard 7 foot rack.The NetIron XMR-series is designed from the ground up for high performance and scalability to address the needs of the most demanding ISP, Internet Data Center, Metro, and MSO applications. All routers in the series feature wire-speed, low latency and jitter routing for IPv4, IPv6, MPLS, and MPLS VPN services. The routers are designed for both provider edge and core deployments. The routers are also capable of wire-speed, low latency and jitter Layer 2 switching to allow for cost-efficient and seamless integration with Layer 2 Metros or Layer 2 MAN access layers without any performance compromise.Designed for high-end routing applications, the series features Foundry Direct Routing (FDR) technology for full Forwarding Information Base (FIB) programming in hardware, together with hardware-based wire-speed ACLs and PBR for robust, high performance IPv4, IPv6, and Layer 3 VPN routing. Complementary to FDR is a full suite of unicast and multicast routing protocols for both IPv4 and IPv6. Supported IPv4 protocols include RIP, OSPF, IS-IS, BGP4, DVMRP, PIM-DM, PIM-SM, and IGMP. Supported IPv6 protocols include RIPng, OSPFv3, MP-BGP, PIM-SSM and MLD.A comprehensive set of path calculation and signaling capabilities using OSPF-TE, RSVP-TE, CSPF, and LDP allows the creation of both traffic engineered as well as non-traffic engineered infrastructures. The NetIron XMR-series also supports all three popular MPLS VPN services on all ports at wire-speed: Virtual Leased Lines (VLLs), LDP-Based Virtual Private LAN Services (VPLSes), and BGP/MPLS VPNs as per RFC 2547.For long haul transport, the NetIron XMR-series optics offer distances up to 80km for 10 GbE and up to 150km for 1 GbE. In addition, the NetIron XMR-series supports 10 GbE WAN PHY thereby enabling connectivity to existing SONET/SDH OC-192/STM-64 infrastructures allowing for cost efficient transport up to thousands of kilometers.
| | |
| --- | --- |
| Compliant Standards | IEEE 802.3, IEEE 802.1D, IEEE 802.1Q, IEEE 802.3x, IEEE 802.1w, IEEE 802.3ae |
| Device Type | Router |
| Dimensions (WxDxH) | 17.4 in x 22.5 in x 12.2 in |
| Features | Flow control, modular design, layer 2 switching, VPN support, BOOTP support, RARP support, ARP support, MPLS support, manageable, IPv6 support |
| Form Factor | External - modular - 7U |
| Network / Transport Protocol | TCP/IP, UDP/IP, IPoE |
| Product Description | Foundry NetIron XMR 8000 - router |
| Remote Management Protocol | SNMP 1, SNMP 2, RMON 1, RMON 2, RMON 3, RMON 9, Telnet, SNMP 3, HTTP |
| Routing Protocol | OSPF, RIP, BGP-4, RIP-1, RIP-2, IGMPv2, IGMP, VRRP, OSPFv2, PIM-SM, PIM-DM, OSPFv3, PIM-SSM, Multiprotocol BGP |