Have questions? Call us now!
847-468-8900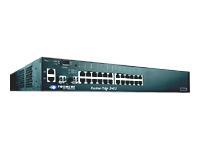 Foundry IronPoint FastIron Edge Switch 2402-WLAN - switch - 24 ports
Foundry IronPoint FastIron Edge Switch 2402-WLAN - Switch - Managed - 24 ports - Ethernet, Fast Ethernet - 10Base-T, 100Base-TX + 2x1000Base-T/SFP (mini-GBIC) - 1.5U - DC power - rack-mountable
The IronPoint FastIron Edge switch (IronPoint FES) expands the capability of IronPoint 200 wireless access points (APs) and helps enterprises achieve a truly integrated wired and wireless network.The IronPoint FES is built upon Foundry's FastIron Edge switch family, which delivers a full complement of standards-based, feature-rich switching. The IronPoint FES offers all the wirespeed switching and security benefits that come with the FastIron Edge switch, plus the latest developments in wireless technology. Edge-switching features of the IronPoint FES include comprehensive hardware and software redundancy, complete quality of service (QoS) controls that provide prioritization and rate limiting, standard and extended access control lists (ACLs), integrated copper Gigabit Ethernet ports, sFlow, and Power over Ethernet (PoE). In addition, the IronPoint FES supports wireless features such as port-based Wi-Fi enablement, wireless mobility, fast roaming, and Web authentication.In large campus environments, IronPoint 200 APs and the IronPoint FES together can provide easy and rapid touchless deployment, low-latency Voice over IP (VoIP) roaming, Layer 3 mobility roaming, enhanced security and monitoring, and high availability features.Foundry's integrated network management system, IronView Network Manager (INM), enables network managers to centrally manage, configure, and monitor the IronPoint FES and IronPoint 200 APs in both large and small wireless deployments. As a result, network managers gain enterprise-wide visibility to both their wired and wireless networks.INM also collects and monitors sFlow data sent from the IronPoint FES. This capability allows INM to accurately monitor traffic accounting from Layer 2 to Layer 7, including traffic accounting based on 802.1x username. This traffic accounting data also helps detect intrusions and identify network bottlenecks.The combination of the IronPoint FES, IronPoint 200 APs, and INM help network managers more easily integrate their wired and wireless networks and provide the access that today's enterprise users demand.