Have questions? Call us now!
847-468-8900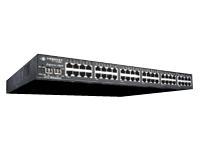 Foundry EdgeIron 4802F - switch - managed - 48 ports
Foundry EdgeIron 4802F - Switch - managed - 48 ports - Ethernet, Fast Ethernet - 10Base-T, 100Base-TX + 2x1000BaseSX(uplink) - 1U - rack-mountable
The EdgeIron family of 10/100 and 10/100/1000 switches delivers interface flexibility, wire-speed performance, superior port density, and a complete standard Layer 2 feature set to address the mid-range needs of enterprise users. Only 1 rack unit high, the EdgeIron family is an excellent choice for wiring closet, small backbone, server farm and desktop applications in high-performance local area networks. The EdgeIron is easy to configure and maintain and offers a cost-effective and high-performance Layer 2 solution for enterprise network deployments.The EdgeIron 4802F features 48 10/100 RJ-45 ports and up to 2 Gigabit Ethernet fiber uplink ports in a compact package, making it ideal for deployment in enterprise wiring closets where space is at a premium. With 1000BaseSX or 1000BaseLX Gigabit fiber uplink options, network managers have the flexibility to extend the Gigabit Ethernet distance up to six kilometers.