Have questions? Call us now!
847-468-8900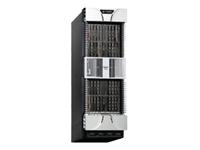 Foundry BigIron RX-32 - switch
Foundry BigIron RX-32 - Switch - Layer 3 - Managed - 33U - external
The BigIron RX Series of Layer 2/3 Ethernet switches excels in all of these areas, enabling network designers to deploy an Ethernet infrastructure that addresses today's requirements with a scalable and future-ready architecture that will support network growth and evolution for years to come. BigIron RX Series incorporates the latest advances in switch architecture, system resilience, quality of service and switch security in a family of modular chassis setting leading industry benchmarks for price performance, scalability and TCO.The BigIron RX Series allows network designers to standardize on a single product family for aggregation and backbone switching. In addition to its enterprise role, the BigIron RX Series, with its high-density and compact design, is an ideal IP solution for data mining and high-performance computing environments, and Internet Exchanges and Internet Service Providers (IXPs and ISPs) where non-blocking, high density Ethernet switches are needed.The BigIron RX systems are designed for non-stop operation, supporting 1:1 management module redundancy, N+1 switch module redundancy, M+N power module redundancy and N+1 fan redundancy. Additionally, BigIron RX Series supports hitless software upgrades and graceful restart routing for fast convergence in the event of a management module failure.At the heart of the BigIron RX architecture is an adaptive self-routing Clos switch fabric with a virtual output queue (VOQ) design. This non-blocking architecture is optimized for maximum throughput and low latency for all size packets. Scalable to over two billion packets per second, the BigIron RX Series is the most powerful Ethernet switch family in the industry. This advanced and scalable design ensures the reliable deliver of all IP-based voice, video and data applications. The BigIron RX switches ship with field-proven IronWare networking software and IronShield security, embedded sFlow per port, advanced Ethernet switching, IPv4/IPv6 routing and multilayer security services. BigIron RX Series enables a user to deploy a reliable, secure and scalable networking solution today that is ready to accommodate tomorrow�s applications and technologies.