Have questions? Call us now!
847-468-8900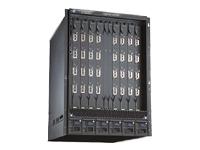 Foundry BigIron MG8 - switch
Foundry BigIron MG8 - Switch - Layer 3 - DC power - external
The BigIron MG8 is a terabit-capacity LAN switching and routing platform offering a new generation of high performance that offers multilayer solutions for Enterprise networks. Designed to address the increasing requirement for high-density, non-blocking 10 Gigabit Ethernet solutions to support high-speed traffic, scalability, high availability, wire-speed traffic flow monitoring, and intelligent multilayer switching and routing in LAN backbone and aggregation environments.The BigIron MG8 complements Foundry's enterprise chassis-based portfolio that consists of the BigIron JetCore and FastIron JetCore family. Together, Foundry Network's high performance chassis-based switches offers a complete range of networking solution that enables mission-critical applications.The BigIron MG8 8-slot chassis comes with fan (2), fan controller (2), fan filter (1), management module panel (2) and interface module panel (8).