Have questions? Call us now!
847-468-8900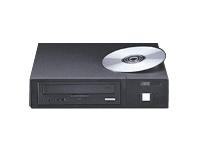 External DVD-RAM Drive
IBM 7210 Model 025 - Disk drive - DVD-RAM - SCSI - external - black
You will find that the improved performance, combined with the flexibility and compatibility offered, makes the IBM 7210 Model 025 an excellent solution for your DVD-RAM and CD-ROM read and write requirements. The 9.4 GB capacity of DVD-RAM allows storage of more data than on conventional CD-RW or CD-R media. Fast performance allows quicker access to information while downward compatibility provides continued access to information on current CD-ROM disks.Key application areas include access to any information widely distributed via DVD-RAMs and CD-ROMs such as licensed software, software updates, and user and technical manuals and documentation. Many other multimedia applications are also well suited for capture and distribution on CD-ROMs. The multi-session capability of the Model 025 supports photo CD applications.Business Partners can enjoy the convenience of distributing their software on economically priced DVD-RAM media. Using both sides of the disk, up to 9.4 GB can be stored on a single disk, and unlike tape-based media, there is no deterioration of data regardless of the number of plays. Comparing the cost of DVD-RAM with tape media you will typically achieve a 50% reduction in media cost. The IBM 7210 Model 25 DVD-RAM Drive provides additional function and enhanced capabilities to the iSeries, pSeries, RS/6000, and AS/400 families of servers. The 7210 Model 025 24X-1X variable speed DVD-RAM drive uses a 8-bit, single-ended (SE) interface and attaches to the host server via a SCSI cable to a variety of SCSI-2 SE, Fast/Narrow or Fast/Wide adapters.
| | |
| --- | --- |
| Device Type | DVD-RAM drive |
| Dimensions (WxDxH) | 9.8 in x 10.8 in x 2.2 in |
| Enclosure Color | Black |
| Enclosure Type | External |
| Interface | SCSI |
| Optical Storage | DVD-RAM |
| OS Required | IBM AIX 5.1, IBM AIX 4.3.3.08, IBM OS/400 5.1 or later |
| Power | AC 120/230 V ( 50/60 Hz ) |
| Product Description | IBM 7210 Model 025 - DVD-RAM drive - SCSI |
| Read Speed | 24x (CD) / 2x (DVD) |
| Rewrite Speed | 1x |
| Weight | 7.9 lbs |
| Write Speed | 1x |