Have questions? Call us now!
847-468-8900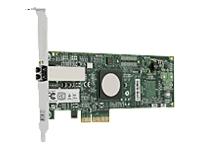 Emulex LightPulse LPe111 - host bus adapter
Emulex LightPulse LPe111 - Host bus adapter - PCI Express low profile - 4Gb Fibre Channel
EMC is the world leader in information storage systems, software, networks and services and the only company 100% dedicated to automated networked storage. EMC solutions and services help organizations of all sizes across the globe to better and more cost-effectively manage, protect and share their information. As a result, customers are able to reduce costs through consolidation of storage and server resources, centralize and automate manual storage management tasks, and improve overall business continuity and flexibility.PRODUCT FEATURES:Simplifies the installation of SMB HBAs to a few mouse clicks using common HBA drivers and AutoPilot Installer for SMB;AutoPilot Manager provides an easy-to-use interface for HBA management and maintenance;Exceptional performance and full-duplex data throughput;End-to-end data protection with a combination of hardware parity, CRC, ECC and other advanced error-checking methods.