Have questions? Call us now!
847-468-8900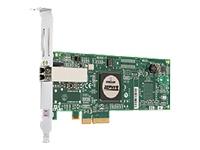 Emulex LightPulse LPe11000 - network adapter
Emulex LightPulse LPe11000 - Network adapter - PCI Express x4 low profile - 4Gb Fibre Channel (SW) - fiber optic - EMC Select
The Emulex LightPulse LPe11000 delivers on Emulex's history of excellence in performance, reliability, and manageability. The LPe11000 is a high performance, single-channel PCI Express Fiber Channel HBA that's ideally suited for large enterprise or mixed operating system Storage Area Network (SAN) environments.Emulex is the most trusted name in storage networking connectivity. That's because each and every Emulex LightPulse Host Bus Adapter (HBA) leverages six generations of advanced, field-proven technologies to deliver a distinctive set of benefits that the world's largest enterprises have come to rely on. From their unique firmware upgradeable architecture, to their common driver model, Emulex HBAs are simply "Generations Ahead" of competing solutions.