Have questions? Call us now!
847-468-8900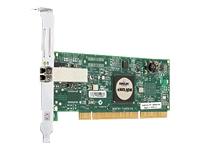 Emulex LightPulse LP1150 - host bus adapter
Emulex LightPulse LP1150 - Host bus adapter - PCI-X low profile - Fibre Channel
The Emulex LP1150 host bus adapter offers highly - integrated 4Gb/s Fibre Channel connectivity solutions for Storage Area Networks. The LP1150 delivers exceptional performance through the use of the Emulex Helios Fibre Channel I/O controller. The high-performance Helios controller combines ARM11 microprocessors, 1Gig/2Gig/4Gig SERDES, buffer memory, and an advanced Fibre Channel protocol engine into a single module. The LP1150 uses a low-profile PCI card form factor that adapts to either standard height or low profile server slots.