Have questions? Call us now!
847-468-8900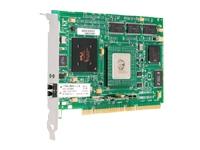 Emulex GN9000/VI - network adapter
Emulex GN9000/VI - Network adapter - PCI 64 - Gigabit Ethernet - 1000Base-SX
The Emulex GN9000/VI host bus adapter (HBA) breaks through bottlenecks and delivers high performance data access for web, application, database and network attached storage (NAS) servers connected over Gigabit Ethernet/IP networks. The GN9000/VI HBA offers the industry's first implementation of the Virtual Interface (VI) architecture over TCP/Gigabit Ethernet (GBE) and IP networks. Emulex's VI over IP (VI/IP) technology adds the speed and efficiency of VI to standard GBE environments, enabling IP networks to perform faster and more efficiently. VI provides a direct path between a VI and Direct Access File System (DAFS) enabled applications and the network, bypassing compute intensive operating system protocol processing routines. The result is maximum throughput, low latency, and less than 5% CPU overhead when processing application, database or file system communications.The GN9000/VI utilizes existing Gigabit Ethernet infrastructures ensuring investment protection for network cabling. It also supports widely accepted TCP reliability and IP routing protocols to ensure compatibility with standards based LAN and WAN networking infrastructures. The GN9000/VI implements the speed and efficiency of VI along with standard TCP and IP Storage Networking protocols into an integrated hardware design to ensure the highest performance possible. VI frees up valuable system resources for dedicated applications processing, greatly improving the speed of data access and increasing user scalability for today's demanding e-business environments.