Have questions? Call us now!
847-468-8900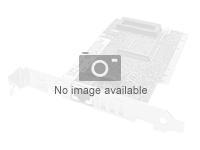 EMC FEBE - network adapter - 8 ports
EMC FEBE - Network adapter - Fibre Channel - 8 ports (pack of 2 )
To handle the responsibility of the separate adapters in the modular design, EMC developed the FEBE (Front-End, Back-End) board. The FEBE supports all the functions of the disk adapters and channel adapters, along with the critical functions of the CCM and ECM. Measuring 20.75 inches by 16.25 inches, the FEBE is designed to fit into the modular card-cage and backplane. The FEBE board contains all of the circuitry and the interfaces needed to establish fiber connectivity to the host servers and the disk drives. It also contains all the circuitry and interfaces needed to establish Ethernet connectivity to the service processor, and RS232 connectivity to the system-wide standby power supply modules. Along with all of these external connectivity requirements, the FEBE board also monitors the fans and power modules. The FEBE board contains all the circuitry needed to link the Symmetnx Directors to the host servers and disk drives, and is a central hub for the data used to monitor me system.