Have questions? Call us now!
847-468-8900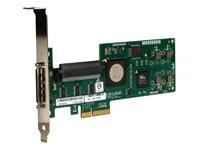 Dell L3-01130-04A - storage controller - Ultra320 SCSI - PCI Express
Dell L3-01130-04A - Storage controller - 1 Channel - Ultra320 SCSI - 320 MBps - PCI Express
The Single Channel PCIe Ultra320 SCSI Host Adapter from Dell is an ideal upgrade solution for your computer. The PCIe U320 SCSI HBA provides up to a 320MBps parallel data transfer bus, as well as Fast, Ultra, Ultra2 and Ultra160 speeds. It features Single Ultra320 SCSI channel with 2 connectors: one external 68-pin Very High Density Cable Interconnect (VHDCI) shielded right-angle connection and one internal 68-pin High Density (HD) right-angle connector.