Have questions? Call us now!
847-468-8900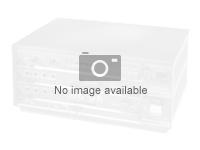 Cisco WS-C1400 - concentrator
Cisco WS-C1400 - Concentrator - external
The stackable Cisco WS-C1400 CDDI/FDDI concentrator combines the compact form factor of workgroup concentrators with the versatility of modular hubs. The concentrator consists of a base unit and a variety of line cards.Modular design allows between 4 and 32 CDDI and/or FDDI ports. Multiple concentrators can be interconnected with UTP wire to allow your network to grow inexpensively. High port density means three times as many ports can be packed into the same rack space compared with other equivalent products. Unique traffic generation feature generates up to 100 Mbps of network traffic diagnostics. Workgroup Director is compatible with SunNet Manager, IBM NetView, and HP OpenView and can be used to remotely manage several workgroup concentrators simultaneously using an intuitive GUI. An SNMP agent is included to support MIB II, the FDDI MIB, and a Cisco-specific MIB. Password-protected administration interface allows for "out-of-band" local network management or remote access via dial-up modem. Remote in-band access to the administration interface is provided via a Telnet session. Ring map feature can be used to view a sequenced list of stations connected to the same FDDI ring. SMT window can be used to view the SMT parameters of any device on the ring. IP addresses can be configured using the BOOTP server. You can download new software releases over the network, or locally via the administration interface. Dual MAC architecture implements graceful insertion, so new stations can be connected without loss of data. Compact design allows the concentrator to be wall-mounted in 6 in. (15.24 cm) deep wiring closets or rack-mounted in 19 in. (48.26 cm) racks. The concentrator is also quiet and attractive enough for desktop environments. Traffic meter and three-color front panel indicators clearly display status. It supports up to 1.25 miles (2 km) of 50- or 62.5-micron multimode optical fiber, 18.6 miles (30 km) of single-mode optical fiber, or 330 ft (100 m) of Category 5 UTP or IBM Type 1 or Type 2 STP copper wire.
| | |
| --- | --- |
| Data Link Protocol | Ethernet, Fast Ethernet |
| Data Transfer Rate | 100 Mbps |
| Device Type | Concentrator |
| Dimensions (WxDxH) | 17.3 in x 15.7 in x 3.4 in |
| Features | Modular design |
| Form Factor | External |
| Localization | English |
| Power | AC 110/220 V ( 50/60 Hz ) |
| Processor | Motorola 68030 |
| Product Description | Cisco WS-C1400 - concentrator |
| Remote Management Protocol | SNMP |
| Weight | 25.6 lbs |