Have questions? Call us now!
847-468-8900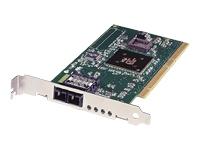 Cisco expansion module
Cisco - Expansion module - PCI - Gigabit Ethernet - 1000Base-SX - refurbished
The 66-MHz Gigabit Ethernet (GE) card for the Cisco PIX Firewall provides a high-performance interface to firewalling, virtual private networking (VPN), and network address translation (NAT), to address both service provider and enterprise customer requirements. As an extension of the widely used Ethernet and Fast Ethernet standards, Gigabit Ethernet offers an easy and cost-effective way to increase network bandwidth while maintaining security policy.The 66-MHz Gigabit Ethernet card enables Cisco PIX Firewalls to take full advantage of Gigabit Ethernet. PIX GE cards support data rates up to 1000 Mbps and are fully compliant with the IEEE 802.3z Gigabit Ethernet standard. By reducing latency, the card enables unparalleled throughput, so you get maximum return on your firewall investment. Available as a 33/66-MHz PCI interface, the Gigabit Ethernet card provides outstanding performance and scalability for your PIX Firewall. Combined with the Cisco PIX 535 Firewall's three-bus 33/66 MHz architecture, the GE 66 provides a performance boost that normal PC-based firewalls can't compete with. Using optical fiber cables you get not only a high-speed connection, but the added flexibility to place associated equipment as much as 550 meters apart.Cisco PIX Firewall 66-MHz Gigabit Ethernet cards combine high-speed networking with seamless integration. The cards utilize just one slot in your system, giving you maximum throughput per slot. And because the adapters are interoperable with your existing Ethernet equipment and systems, they ease migration and minimize operating expenses while maximizing the return on your networking investment. The PIX Gigabit Ethernet card can replace multiple 100-Mb/sec interfaces in congested networks, reducing administrative complexity and costs.
| | |
| --- | --- |
| Cabling Type | Ethernet 1000Base-SX |
| Compliant Standards | IEEE 802.2, IEEE 802.3z |
| Data Link Protocol | Gigabit Ethernet |
| Data Transfer Rate | 1 Gbps |
| Device Type | Expansion module |
| Dimensions (WxDxH) | 0.9 in x 6.4 in |
| Form Factor | Plug-in module |
| Interface (Bus) Type | PCI |
| Processor | 1 x 82543GC - Intel |
| Product Description | Cisco expansion module |
| RAM | 64 KB |
| Weight | 2.8 oz |