Have questions? Call us now!
847-468-8900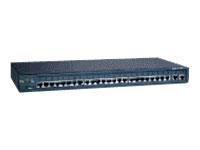 Cisco Catalyst 1924 - switch - managed - 24 ports
Cisco Catalyst 1924 - Switch - managed - 24 ports - Ethernet, Fast Ethernet - 10Base-T, 100Base-TX, AUI - refurbished - external
Cisco Catalyst 1900 series Ethernet switches are the ideal desktop complements to the complete line of high-performance switching and routing products from Cisco Systems, the leader in networking. Available in Standard and Enterprise editions, Catalyst 1900 switches are distinguished by their ease of use, flexible configuration, and upgradability. Standard Edition switches are designed to work directly out of the box and connect desktops to high-speed servers or the network backbone. Enterprise Edition software adds unmatched scalability as well as flexible network configuration options, including virtual LAN (VLAN) support, bandwidth optimization, enhanced security, and comprehensive management capabilities. You can acquire the rich performance and management features of the Enterprise Edition now or later; the software comes preinstalled on the Catalyst 1900 Enterprise Edition switches or is available as an upgrade for Standard Edition switches.Cisco Catalyst 1900 Enterprise Edition switches provide high-capacity links and stackability through Fast EtherChannel port aggregation. Fast EtherChannel can deliver up to 400 Mbps of bandwidth per link in full duplex mode, providing optimal uplinks to high-speed backbones and high-performance servers. The switches also deliver simplified administration, enhanced security, and broadcast control through ISL VLAN trunking. The Catalyst 1900 Enterprise Edition series switches provide enhanced security by enabling centralized access control through TACACS+. Multilevel console passwords enable implementation of a secure, flexible access control policy for the switch console. For ease of deployment in a large network, Enterprise Edition switches support autoconfiguration of multiple switches through a boot server and can be managed via the widely used Cisco IOS command line interface (CLI). Used in conjunction with Cisco routers, chassis switches, and access servers, Enterprise Edition switches provide unmatched network performance, management control, and ease of use in a Cisco end-to-end network. All Catalyst switches are backed by Cisco service and support and the technology leadership that extends the reach of more networks worldwide.