Have questions? Call us now!
847-468-8900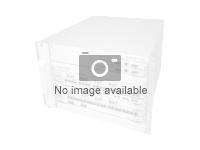 Cisco ATM Switch Processor switch - managed
Model:
L1010-ASP-B-FC1-RF
Cisco ATM Switch Processor - Switch - managed - ATM - refurbished - plug-in module
The ATM Switch Processor (ASP) is a main system processor, which supports both the ATM switch fabric, together with its field-upgradable feature card, and the high-performance RISC processor, which provides the central intelligence for the device.The ASP module supports all of the cell-relay and signaling and management processing functionality of the switch. The ASP itself supports the 5-Gbps, fully nonblocking shared memory fabric, with 65,536 cells of buffering. The required, field-replaceable feature card, a daughter card of the ASP module, supports all advanced switch functions, including intelligent packet discard, dual leaky bucket traffic policing, and Available Bit Rate (ABR) congestion control mechanisms. New versions of the feature card can be installed in the field as and when standards change and as the functionality is enhanced.