Have questions? Call us now!
847-468-8900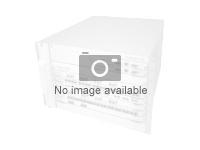 Cisco ATM Switch Processor switch
Cisco ATM Switch Processor - Switch - ATM - plug-in module
The LightStream 1010 meets the challenge through its high-performance 100-MHz millions of instructions per second (mips) R4600 RISC processor. The LightStream 1010 switch processor can be used in the Catalyst 5500 multilayer LAN switch, providing many options for deployment in addition to investment protection. In metropolitan-area networks, the LightStream 1010 and Cisco 7200 routers integrate video applications, such as distance learning, and voice applications, such as private branch exchange (PBX) interconnect, over ATM circuit emulation.The LightStream 1010 processor module is also capable of being easily upgraded in the field to meet increasing network demands; processor DRAM memory can easily be upgraded through industry-standard single in-line memory modules (SIMMs), for instance, while the integral dual PC Card slot allows for Flash memory modules both to increase available nonvolatile memory for data storage and to permit easy device configuration.