Have questions? Call us now!
847-468-8900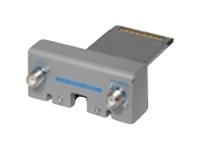 Cisco Aironet 802.11a Radio Module - network adapter
Cisco Aironet 802.11a Radio Module - Network adapter - CardBus - 802.11a
As the popularity of wireless LANs increases, enterprises are installing access points in a growing variety of facilities, locations, and orientations. The Cisco Aironet Series is designed with this in mind. The access point and integrated mounting system are designed for installation on walls, below ceilings, and, with its plenum ratable metal case, above suspended ceilings.To extend the flexibility of deployments, the 802.11a radio module incorporates an articulating antenna paddle that contains both omni-directional and patch antennas. For ceiling, desktop, or other horizontal installations, the omni-directional antenna provides optimal coverage pattern and maximum range. For wall mount installations, the patch antenna provides a hemispherical coverage pattern that uniformly directs the radio energy from the wall and across the room. Both the omni-directional and patch antennas provide diversity for maximum reliability even in high multipath environments such as offices and other indoor environments.