Have questions? Call us now!
847-468-8900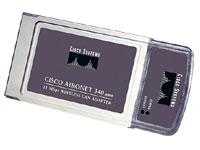 Cisco Aironet 340 - network adapter
Cisco Aironet 340 - Network adapter - PC Card - Ethernet (pack of 40 )
The Cisco Aironet 340 Series PC Card Client Adapter is a PCMCIA card radio module that provides transparent wireless data communications between fixed, portable, or mobile devices and other wireless devices or a wired network infrastructure. Host devices can be any device equipped with a PCMCIA card Type II or Type III slot.The PC card client adapter is fully compatible when used in a device supporting Plug-and-Play (PnP) technology. The PC card client adapter can also be built into peripheral devices such as printers to provide a transparent wireless connection to a wired network.