Have questions? Call us now!
847-468-8900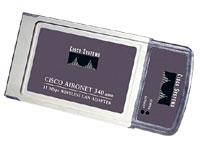 Cisco Aironet 340 - network adapter
Cisco Aironet 340 - Network adapter - PC Card - Ethernet
The Cisco Aironet 340 Series is a comprehensive family of client adapters and access points that enables organizations to integrate the freedom and flexibility of wireless local-area networking into their information systems.The Cisco Aironet 340 Series client adapters and access points are designed to meet the mobility, performance, security, interoperability/management, and reliability requirements of in-building wireless local-area networks (WLANs) within enterprise-wide information infrastructures or as free standing all-wireless networks. The Aironet 340 Series products provide value-added features that are ideal for: IT professionals or business executives who want mobility within the enterprise, as an addition or alternative to wired networks, business owners or IT directors who need flexibility for frequent LAN wiring changes, either throughout the site or in selected areas, and any company whose site is not conducive to LAN wiring because of building or budget limitations, such as older buildings, leased space, or temporary sites.