Have questions? Call us now!
847-468-8900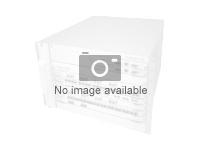 Cisco 6015 IP DSL Switch - switch - managed
Cisco 6015 IP DSL Switch - Switch - managed - ATM - 3U - refurbished
The Cisco 6015 is a front-access, six-slot multiport line-card architecture capable of supporting industry-standard asymmetric DSL (ADSL) and single-pair high-bit-rate DSL (G.shdsl) technologies. The product is fully compliant with Network Equipment Building System (NEBS), American National Standards Institute (ANSI), European Telecommunication Standards Institute (ETSI), and asynchronous transfer mode (ATM) carrier-class network element standards. Network transmission connections include T1/E1 inverse multiplexing over ATM (IMA), DS3 User-Network Interface (UNI), and future OC-3/Synchronous Transport Module level l (STM-1) UNI. Up to 48 ADSL or G.shdsl ports can be provisioned for use with the Cisco 6015 in a variety of configurations. The Cisco 6015 supports simultaneous voice (basic telephone service) and data services with the addition of a specially designed plain old telephone service (POTS) Splitter package that is available from Cisco Ecosystem partners.Building on the advanced network interface (Network Interface - version 2 [NI-2]) architecture of the Cisco 6160 and 6260 IP DSL Switches, the Cisco 6015 provides a clear migration path from today"s unspecified bit rate (UBR)-oriented Internet access service model (popular for high-volume consumer DSL service rollout), to a comprehensive IP+ATM (class of service [CoS])/QoS family required for the growing demands of telecommuter and business customers with mission-critical applications. In addition to supporting industry-leading traffic management through I.371-compliant policing, extensive-output queue buffering, and VP-granularity shaping, the Cisco 6015 platform can provide the kind of robust IP+ATM capabilities typically found only in edge-switch or higher-class products. Refer to Table 1 for complete product specifications.Cisco DSL Manager (CDM) manages the platform and is a complete Simple Network Management Protocol (SNMP)-based element management system with fault, configuration, and performance reporting capabilities. A Cisco IOS software command-line interface (CLI) is also available for network element provisioning. Management solutions are also being extended to include flow-through provisioning with carrier-class network management systems (NMSs).